PRR 2D-P5 Trucks
---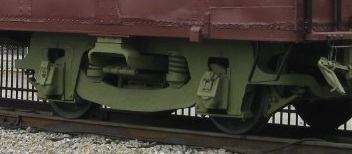 The 2D-P5 was the Pennsy's "standard" passenger truck and saw service on a variety of equipment from the 1920s to the 1970s. To wit -
Baggage - B60, B60a, B60b
Baggage/Mail - BM60
Coach - P70, P70D, P70F, P70K, P70H, P70R, P70FB, P70B, P70E, P70GS, P70FA, P70DR
Cafe Coach - PC70, PC70B
Lounge/Cafe - PLC70, PLC70a
Observation/Cafe - POC70
Express Reefer - R50b
An exact copy of the 2D-P5 was purchased by the N&W (designated class T-52), and was used on the following equipment -
Baggage/Mail - BMh
Postal / Mail - M1
Baggage & Express - BEk
Mail Storage - MS3 (rebuilt BMh)
The 2D-P5 is an appropriate upgrade for the Lima/Model Power heavyweight coach (it being based on the PRR P70). The same goes for the NJ International brass R50b.
In N scale, American Limited used to make "some assembly required" 2D-P5 kits (not sure if they still do) -
As of this 2015 writing, Michael's Model Railroad & Parts sells N scale 2D-P5 trucks via shapeways.com. These are available with either roller bearings or friction bearings -
Keystone Details makes a PRR 2D-P3 truck (also via Shapeways) which is (I'm assuming) a close cousin of the 2D-P5 -
PRR Class 2D-P3 two axle passenger truck was used on some B60b baggage cars, lasting into the 1960's.
---
---