Barber-Bettendorf Swing Motion Caboose Trucks
---
Cabooses were often equipped with trucks that were smoother riding than those used on standard freight cars. Improved ride quality was also the reason why caboose trucks generally had elliptical "leaf" springs in place of coil springs (a design choice made possible by the fact that cabooses have a relatively constant weight). Introduced in the 1920s, the Bettendorf "swing motion" 30-ton caboose truck was one of the most popular designs of the friction bearing era. Originally a proprietary product of the Bettendorf Co, the manufacturing rights were acquired by Standard Car Truck Co in 1942 (who then added their trade name "Barber" to the truck's name). These trucks could be seen under double-sheathed, single-sheathed, all-steel, transfer, drover, and even extended vision cabooses.
In 1959, the Barber-Bettendorf swing motion caboose truck was upgraded to use roller bearings. These roller bearing trucks can be found under most modern and rebuilt cabooses.
Friction bearing Barber-Bettendorf caboose trucks are available from Atlas and Kato -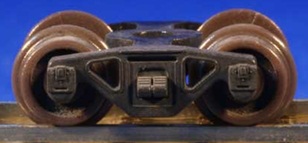 Roller bearing Barber-Bettendorf caboose trucks are available from Atlas, Athearn, Micro-Trains and Rapido Trains (the latter being specifically designed for the CN Point St. Charles Caboose that RT made for Prairie Shadows) -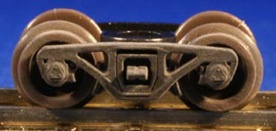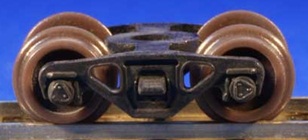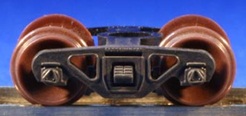 Some roller bearing caboose trucks came equipped with electrical generators. Athearn and Micro-Trains both make models of this design (both sides shown) -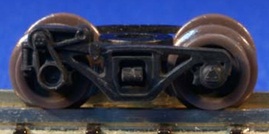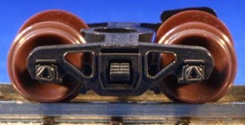 Fox Valley Models makes a slightly different Bettendorf truck for their B&O wagontop caboose models. From what I gather, these are designated as "Bettendorf AAR Trucks" (a style Kadee sells in HO, but not in N Scale). The B&O made these trucks from scrapped hopper trucks. Employing "Integral Box Design", they have leaf springs that protrude much further out than those found on other trucks.
---
Measurements
Athearn Roller Bearing - wheelbase 10.5mm, frame width 16.62mm, wheel size 33", axle length 13.8mm
Atlas Friction Bearing - wheelbase 10.25mm, frame width 17.7mm, wheel size 33", axle length 14.26mm
Atlas Roller Bearing - wheelbase 10.25mm, frame width 17.2mm, wheel size 33", axle length 14.26mm
Micro-Trains Roller Bearing - wheelbase 10.25mm, frame width 16.6, wheel size 33", axle length 13.75mm
---