Standard Car Truck Co Barber S-1 & S-2 Trucks
---
| | |
| --- | --- |
| Barber S-1 | Barber S-2 (Friction Bearing) |
| | |
Barber S-2 (Roller Bearing)
Starting in the 1920's, trucks retrofit with after-market friction snubbers were becoming increasingly popular. As a consequence, all of the major truck manufacturers began to explore the possibility of designing trucks with built-in snubbers. The first such truck to reach market was Standard Car Truck Co's Barber Stabilized S-1 (debuting in the early 1930's). It had a spring plank and was not self-aligning, but it did incorporate spring-loaded triangular steel wedges between the bolster and the sideframes which snubbed out excessive motion and harmonic oscillation. The truck rapidly demonstrated its superior riding qualities and doubtless would have been more widely adopted if the depression had not severely reduced the production of new freight cars.
In the late 1930s, an improved version of the Barber Stabilized truck, the Barber S-2, was introduced. At first it also had a spring plank, but a self-aligning spring-plankless S-2 quickly followed. The S-2 was so successful that it was licensed to other truck manufacturers and, following World War II, became one of the two most widely-used freight car trucks (the other being the ASF-Keystone A-3). The Barber S-2 design was easily modified for roller bearings, and as a roller bearing truck, it remains in production today.
Rapido Trains makes the only Barber S-1 truck in N scale (originally designed for their 37' meat reefers) -
Atlas and Rapido Trains make Barber S-2 friction bearing trucks (the former was originally designed for Atlas's revised PS-1 box cars and the latter was designed for the 52.5' CP gondolas that RT made for Prairie Shadows) -
The Barber S-2 70-ton roller bearing truck was a logical development from the original friction bearing design. Introduced in the late 1950s, the sturdiness of the S-2 truck is evidenced by the fifty plus years it has remained in service. A careful observer will spot these trucks in interchange use today. This truck can be used under almost any 70-ton rolling stock built from the 1960s forward. At present, Micro-Trains, Rapido Trains and Scaletrains.com all make N scale 70-ton roller bearing S-2 trucks. The Rapido Trains trucks were designed for the CN bulkhead flats that RT made for Prairie Shadows and the Scaletrains.com trucks were designed for their 4727 Cuft carbon black hoppers.

Designed for today's heavier freight cars, 100-ton S-2 trucks have 36" wheels and a longer wheelbase than the 70-ton S-2's. Atlas, Intermountain, NARC, Micro-Trains, Scaletrains.com and Rapido Trains all make models of this version (the MTL truck was designed for their 60' double plug door boxcar, the STC truck was designed for their PS-2CD 4785 covered hopper and the RT truck was designed for their Autoflood III coal hoppers) -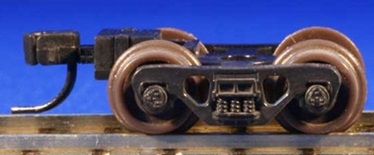 Micro-Trains also makes a slightly different 100-ton Barber S-2 truck for their 68' DODX flat cars (designated as "DODX Barber Roller Bearing Truck" by MTL). These are basically the same as their previous 100T S-2, just with the bolster area having been redesigned to work with the newer DODX flats.
Rapido Trains makes the only 125T Barber S-2 truck in N scale (designed for their ACF Flexi-Flo hoppers) -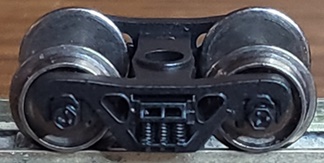 ---
Measurements
Intermountain 100-ton - wheelbase 10.1mm, frame width 15.65mm, wheel size 36", axle length 14mm
---