ASF A-3 Ride Control Trucks
---
American Steel Foundries (ASF) has been a major producer of freight car trucks for over a century. To this day, ASF truck designs (specifically the "Ride Control" family) are a common sight under railcars all across North America.
---
ASF Friction Bearing Trucks
The ASF A-3 Ride Control 50-ton friction bearing freight truck was introduced in the 1940's and is one of the forerunners of modern freight trucks. Features embodied in this design include longer spring travel, no spring planks and constant friction control using friction castings in the bolster to dampen excessive lateral roll of the car. These design features allowed for a higher train speed with less danger of derailment than previous designs. ASF sold over 140,000 sets by 1949 and continued manufacturing them into the mid-1960s. This truck is excellent for modeling the transition era up to the end of the friction bearing era.
At present, Kato makes the only 50-ton ASF friction bearing truck in N scale (#800114, used on their ACF two-bay hoppers) -
The 70-ton ASF friction bearing truck with 33" wheels is from the post-transition era. Examples of 70-ton capacity cars built during this era would include 3-bay hoppers, 2 and 3-bay covered hoppers, mill gons and some flat cars. Railroads that bought this truck included: AA, ACL, ATSF, B&M, B&O, C&EI, C&O, CofG, CB&Q, CGW, CNJ, CNW, CRR, D&H, D&RGW, DL&W, DT&I, EJ&E, Erie, GM&O, GN, IC, KCS, L&N, LV, Monon, M&StL, MEC, MILW, MKT, MP, N&W, NC&StL, NH, NKP, NP, NYC, P&LE, PFE, PM, PRR, RI, SAL, SL-SF, SOO, SP, SP&S, SSW, T&NO, T&P, UP, Wabash, WM and WP.
At present, the only 70-ton ASF friction bearing trucks available in N scale are from Atlas/BLMA and Broadway Limited Imports -
The BLI trucks (also designated as Type 2E-F22A) were specifically designed for their PRR H32 hoppers -
---
ASF Roller Bearing Trucks
Starting in 1966, new cars were required to have roller bearing trucks. At the same time, older friction bearing trucks were gradually phased out (some were retrofit with roller bearings and the rest were scrapped when their cars were retired from service). Friction bearing trucks were banned from interchange service on 1/1/91 for cars carrying hazardous materials. All other cars equipped with friction bearings were banned from interchange on 1/1/94. Cars with converted friction to roller bearing side-frames were banned from interchange on 1/1/95. A few exemptions to these rules were granted for shippers who could not comply with the dates, so some cars did linger a little longer in interchange after the actual deadline dates. The converted trucks were ultimately banned because hot bearing detectors could not "see" them when they overheated.
Based on earlier solid bearing designs, the ASF Ride Control roller bearing truck is one of the most popular trucks of the modern diesel era. It is made with various spring packages and other options in 70-ton, 100-ton and 125-ton versions. These trucks are still being produced to this day and can be found under a wide variety of North American rolling stock.
Atlas/BLMA, Atlas (again), ExactRail, Micro-Trains, Scaletrains.com, Eastern Seaboard Models and NARC all make N scale 70-ton ASF roller bearing trucks. The MTL trucks were designed for their Gunderson Husky Stack cars and the Scaletrains trucks were designed for their Thrall 5750 Carbon Black hoppers (designated as "ASF Gould 70-ton") and their Gunderson 5188 hoppers (designated as simply "ASF Ride Control" trucks). The second (newer) Atlas truck was something they cooked up for their 2020 GA RBL box cars (and why they didn't just use the 70T ASF trucks they acquired from BLMA remains a mystery to me). The NARC truck was designed specifically for Pacific Western Rail System's 50' PS 5077 box car -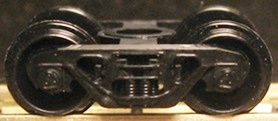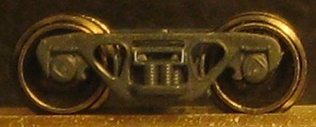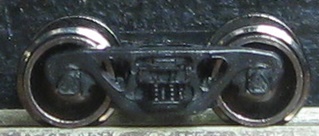 ASF's "Swing Motion" 70-ton truck is a high performance truck that is widely used for the transportation of automobiles and other laden sensitive products such as paper-rolls for the printing industry. Scaletrains.com introduced this style of truck on their Gunderson Multi-Max Autoracks -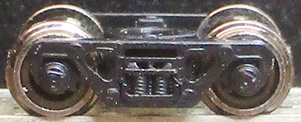 The 100-ton ASF roller bearing truck has standard 36 inch wheels and a longer wheelbase than the 70-ton ASF roller bearing truck. Athearn, Atlas/BLMA and ExactRail all make models of this truck -
---