05/17/17 - Finished Spurgy's Bar & Grill
Scratchbuilds are like that proverbial box of chocolates - you just never know what you're going to get. Some turn out great, some turn out "meh", and some, well... some you just pitch into the trash and start over. Fortunately, this one came together surprisingly well - maybe one of my best ever (if I do say so myself). That said, I did wind up having to compress the side walls a bit (as compared to the prototype). A necessary compromise since I definitely wanted to include the back patio and garage (as it is, the garage practically butts right up to the outer track loop on my layout).

The building itself is pretty basic, so not much to report there. Rather, it's all the little details that make this a fun and interesting model (brick foundation, basement window, grease bin and hose, wall and roof vents, "Coors Light" sign in the window, electrical box, rocks and weeds, working area light, satellite dish, roof antenna, road sign, milk jug, etc).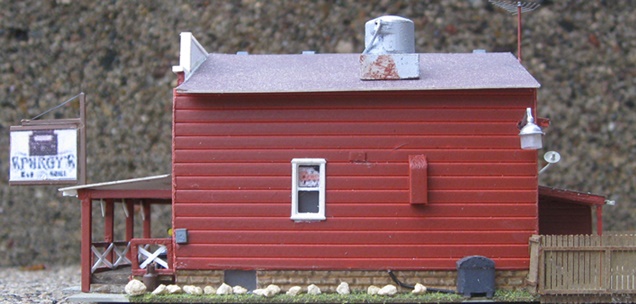 At first blush, the front porch looked like it was going to be a pretty scary project. But after simplifying things a bit (and also breaking it up into several smaller projects) it turned out to be relatively straightforward. As for the sign, I got lucky there. As it turns out, the proprieters have that exact same image in gif form on their facebook page. So, it was just a matter of grabbing a copy, resizing it, and then printing it out on my laser printer. Additional details include tables and chairs, a couple of WS "people sitting", an address sign, and more rocks (WS "talus").
The fencing around the back patio was evidently a "work in progress" when I took my original set of photos. Based on more recent photos (once again, facebook to the rescue), it appears to be quite a bit more finished looking now. So, that's how I built mine (using some nifty lasercut wood fencing from Inter-Action Enterprises).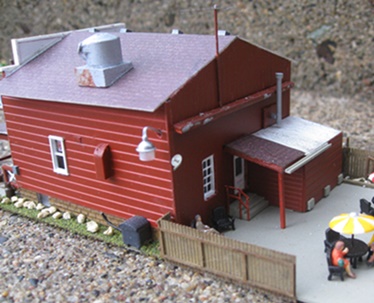 Hey look, there are those precious shutters that I was so anxious to get last month. Good grief, talk about obsessive. Like I couldn't just make my own? Additional details include wall and roof vents, a power line, some electrical conduits and a meter. I also went so far as to scratchbuild my own air-conditioner (complete with an electric cord running to an outlet on the wall). Now that's obsessive. I think that's me sitting on the steps there, taking a breather from all the lunacy.
Getting all of the patio furniture I needed was kind of an adventure. After rummaging around in my "Giant Box O' Details", what I came up with initially was a set of garden tables and chairs leftover from an old Faller set (#272441). I also found two nicely painted umbrellas, but had no idea from whence they came. My guess is that they were also included in that Faller set, but since said set is impossible to find nowadays I guess I'll never know for sure.
So, needing more outdoor furniture, I ordered up a Preiser set (#9554). And although said set included the additional tables and chairs that I needed, the included umbrellas left a lot to be desired (being way, way, way bigger than the ones I already had - and thus destined to stick out like a couple of very sore thumbs). So, I then ordered up a different Faller set (#272905 this time), which fortunately included some more appropriately sized umbrellas (albeit unpainted, so I had to take care of that myself).
Anyway, with all the furniture accounted for, I then went ahead and finished off the scene -
And yeah, I don't know what all that weirdo lumberjacky-looking stuff that's nailed to the fence is either, but I added approximations of it anyway (along with a little rock and shrub garden). And once again straying into overly obsessive territory, I even made a little hanging flower pot.
As it turns out, that Preiser set included exactly what I needed to scratchbuild one of those outdoor space heater thingies. Basically I took one of the little round tables, drilled a hole through it, and then inserted a short length of plastic rod through the center. I then stuck one of the umbrella bases on top of that and then stuck the whole assembly into an old Atlas milk jug. Genius!

Lastly (and leastly), I scratchbuilt a couple of garages. About the only bit of excitement here is that I did go ahead and wire up three area lights on the front of the larger one. Oh, and if you're just now noticing that the side walls on the smaller garage are white in the prototype photo, well... I'm not falling for that old trick again. Since these buildings were entirely white back in the "Straight River Inn" days, I can only assume that I caught Spurgy in "mid-paint" when I took my photos and that the walls are now all red. Ha! Fool me once...
So, that's that. And now, since you can't go bar-hopping where there's only one bar, I guess my next project is going to have to be Finch's Pub. See ya there!
05/19/17 - Get yer Beer & BBQ!
I whipped up this signage for the vacant lot next to Spurgy's. And I must say, I sure do wish I knew how to shrink down these proto photos and still retain their sharpness when I print them out. As is, they might pass the three-foot test, but no more than that...