05/14/16 - More South Elevator detailing
Adding the three main elevator legs to the central section of the complex turned out to be a major exercise in "fudging it". First off, the prototypes are super complex (and at the same time, somewhat difficult to photograph), so right from the get-go it was pretty hard to figure out just what all was going on up there. Secondly, my assorted bins didn't really wind up in the same relative positions (or the same heights) as the SunRich bins, so there were a few instances where I simply wasn't able to connect the correct leg to the correct bin. But, y'know, you do what you can.
My first job was to build the main leg (along with its accompanying scaffolding and stairways) -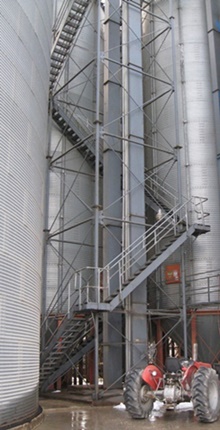 Since the prototype is super huge, I decided to use two Rix legs for the model (along with some fantasy-land detailing up on top). As for the scaffolding, I went with Plastruct "truss" sections to save a bit of time (as opposed to scratchbuilding the whole thing myself). Unfortunately, the cross members are a bit coarser than I would have preferred (as compared to the prototype), so the legs wound up being basically invisible inside them. The Grandt Line stairs and railings that I used were also a tich bigger than they needed to be, making the overall structure somewhat larger than I'd planned on (vis'a'vis the provided space). But despite the nitpicking, I think the whole thing turned out pretty decent looking overall.
Next up, I built the two secondary legs (also Rix). And since the one that I can actually see the bottom of has a light gray base and some faded blue paint above that, I painted mine to match. Oh yeah, and if you're wondering what I did about all the ground level detailing (the stuff that connects to the pointy bottoms of the hopper bins)? Ummm... no, nothing. In my defense, I did plan on at least attempting some of it. But honestly, I just can't make any of it out in my photographs. So, off to the land of "out of sight, out of mind" it went.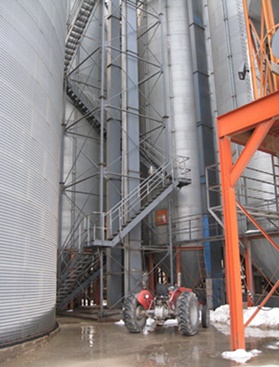 So, as noted above, lots of liberties were taken. But, at the end of the day I think I wound up with at least a decent impression of the overall "rat's nest" nature of the scene -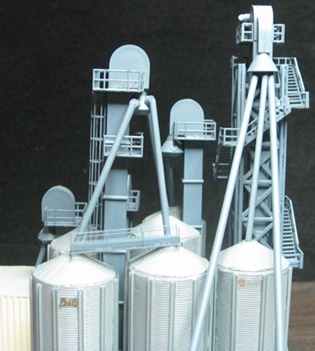 I must say, I really got the heights wrong on those elevated hopper bins. Now that I look at some of these "taken from half a mile away" photos, I see that I could have easily gone another inch or two taller with them. Dang.
But anyway, good progress there. A little bit of detailing on the fat bins, one more big leg, and I think I'm done!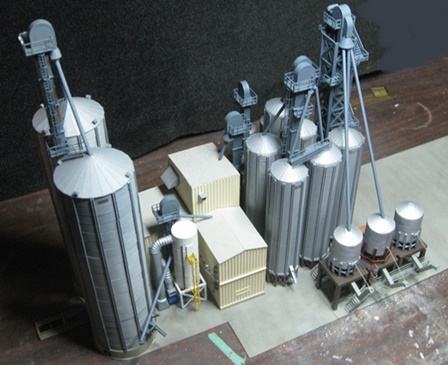 05/23/16 - Finished the South Elevator
Holy Hannah, it's done! First step was detailing the shorter of the two fat bins (IE, adding ladders, safety cages, platforms, walkways, vents, a dispensor spout, and a loading conveyor). Then I had to spend a good long time building yet another gigantic tower/stairway/leg monstrousity -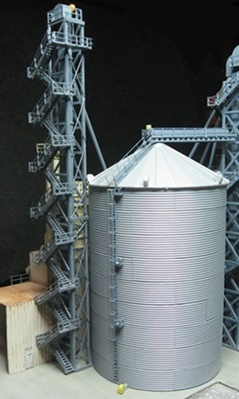 Trackside detailing -
And yes, you can put your hands down if you're wondering just how that big conveyor actually gets grain into the bin - my scouting photos don't really give any clear indication as far as how it connects to the leg, so I just foobed it up against the tower and called it good enough -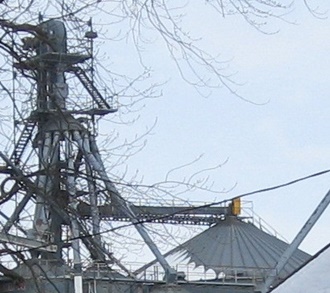 Next up, detailing the big bin (dispensing spouts and associated ladder/platform, a biffy and an auger) -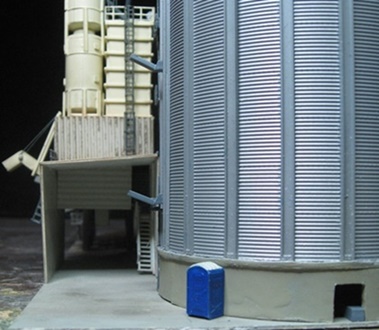 And then all of this jazz (blowers, auger, access panel platform, etc) -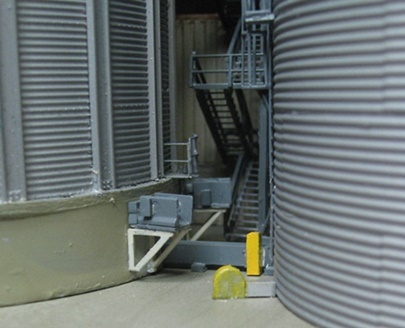 And then more walkways/platforms, another ladder/safety cage and another conveyor -
Once again I basically fudged how the conveyor connects to the tower, but y'know, so it goes -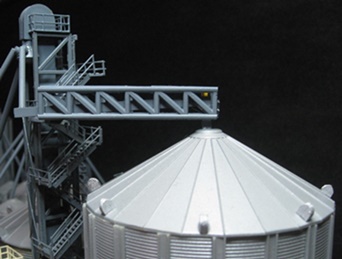 So, that's that. And it "only" took me three years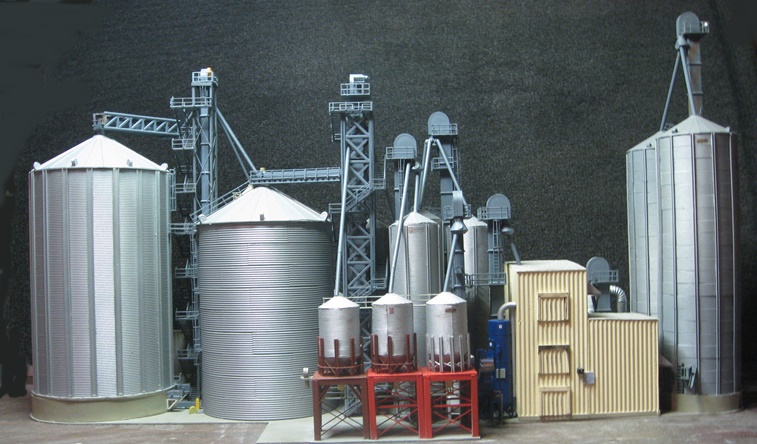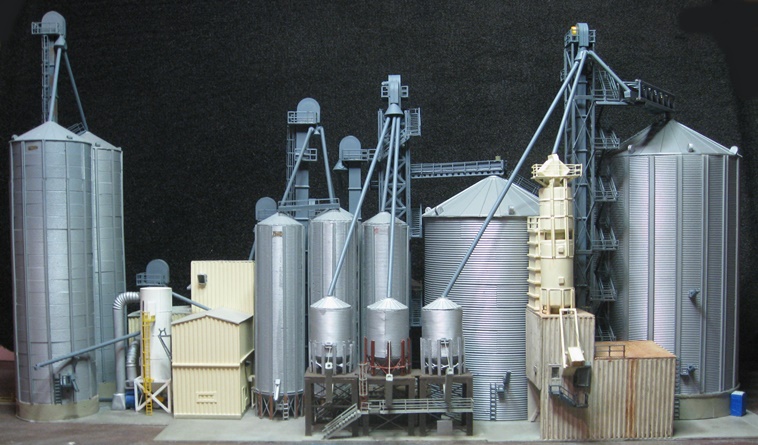 Well, almost "that" anyway. As feared, the whole thing is damned near ready to fall off the edge of the layout. So, it looks like I'm going to have to add a bit more foam base down in that corner.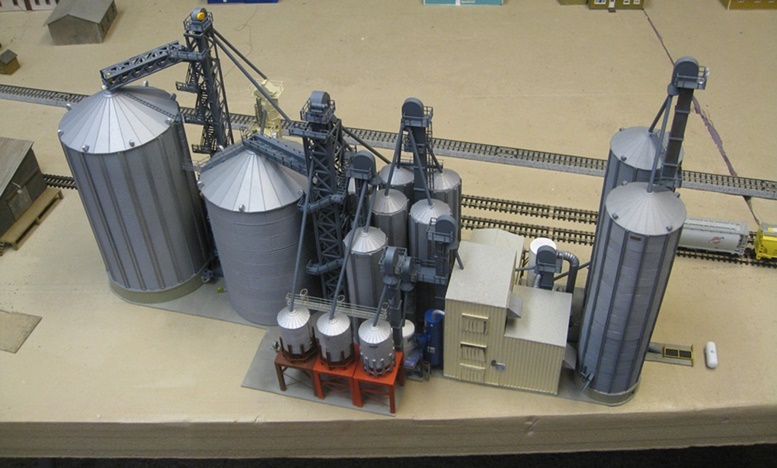 But before I get on with all that, I have more "new stuff" to address - namely, the recently added "fall arrest" structure that I discovered on my most recent scouting expedition. I tell ya, I can't take my eyes off these guys for a second!
05/26/16 - Finished the South Elevator "fall arrest" structure
Due to bit of good fortune, this project wound up being pretty simple. As you may or may not recall, way back in 2010 (has it really been that long??) I built some tall vertical supports for the North Elevator conveyor using Traincat etched brass "radio towers". Vis -
So, back when I started on the South Elevator project I dredged up all of my various etched brass details (ladders, walkways and a couple of leftover radio tower sections) on the off chance that I might need them. And although I didn't wind up having any use for the radio tower sections on the actual elevator, when it came time to build this fall arrest thingy said triangular towers turned out to be just what the doctor ordered. And it's darned lucky that I had them sitting there staring me in the face, because I seriously doubt I would've remembered them from six years ago!
With the towers providing most of the meat of the structure, all I had to do to finish things off was use some Plastruct square rod (2.5mm) to make the support arms. As for the hooks, I did spend a bit of time Googling around for something suitable. But not finding anything that looked particularly promising (and lacking any sort of patience), I just made mine out of skinny Plastruct rod (bent into hook shapes) -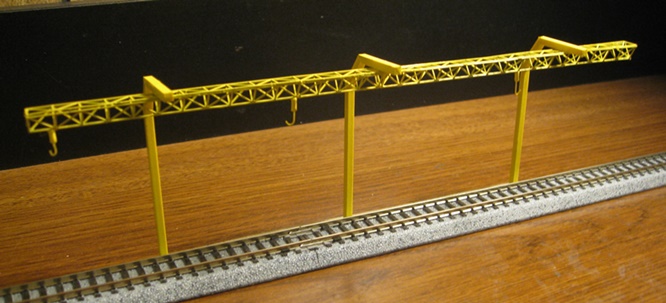 Since this thing obviously can't stand up on its own, I glued the legs to a skinny strip of styrene and then drilled a hole through that so I can use a nail to hold the whole thing in place (no, I'm still not ready to permanantize things by gluing stuff down to the base) -
On a semi-related note, I rejiggered the track leading up to the South Elevator sidings by swapping the straight and curved sections leading into the turnout. This moved the sidings closer to the main and allowed me to slide the whole elevator complex further south (down where it belongs). It's still very close to the edge of the layout and I may ultimately decide to tack on a bit of extra foam base in that corner. But since that's my "duckunder" area, I'm pretty certain that I'd wind up spending the rest of my life bashing my head into it (thus sending shockwaves through Hope and freaking out the local citizenry). So, I dunno, we'll see how I feel about it when I get into the scenery and layout detailing stage of things.
I seem to be on a roll with SunRich these days, so I should probably finish up the last couple of small projects I have remaining there (storage tanks and whatnot). Frankly, anything that leaves this AYA mess on the backburner for a while sounds like the path of least resistance...
06/11/16 - Finished the SunRich NH3 storage tank
Whenever I start in on one of these "small" projects, I always delude myself into thinking it's going to be quick and easy - mainly 'cuz I generally forget that even though the structure may be small, it still has a jillion parts (all of which are damned near microscopic). Case in point -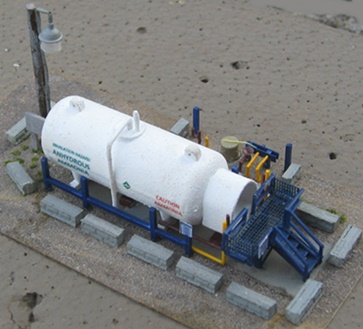 For this one, I started out with the tank itself (scavenged from an old saw mill kit that I'd purchased years ago and never used). Unfortunately, my white spraypaint can went a bit fluffy on me so I didn't quite wind up with the smooth surface that I would have preferred. Ah well, what can I say? You live by the can and you die by the can, but it still beats pulling out the damned airbrush all the time.
As usual, I did my best to approximate some of the small detailing (styrene pipes and valves and whatnot) without going full-on overboard with it. IE, no peeking underneath the tank to see what exactly those pipes are connected up to, OK?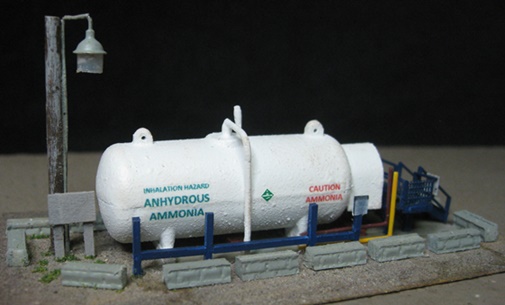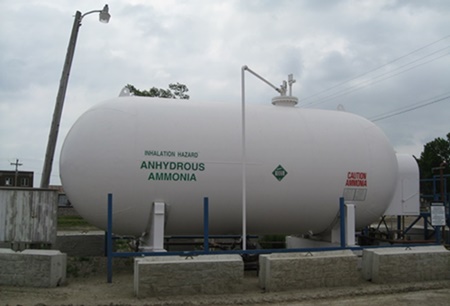 Apart from the diamond-shaped Microscale decals, I printed out all the rest of the various graphics on my laser printer. And although it would've been nice to get them a bit smaller, when you're talking about two and three point fonts you eventually have to make some sacrifices to the gods of readability. As is, my tiny little safety signs (shrunk down from proto photos) aren't much more than impressionistic blobs of text.
Speaking of "jillions of parts", I'm pretty sure that that blue platform wound up taking about a half-a-jillion all by itself. Yikes!
I made the little "box thingy" and light pole out of wood (colored with Bragdon gray). The concrete safety barriers are a recent addition ('cuz, y'know, they can't stop changing things down there), so I went ahead and added those too (thin pieces of Plastruct brick glued to Plastruct square rod).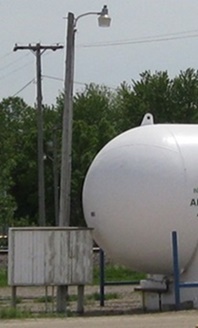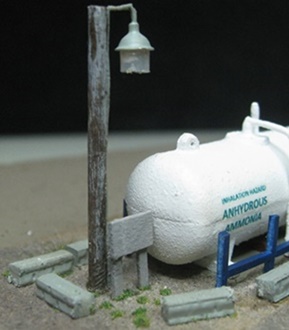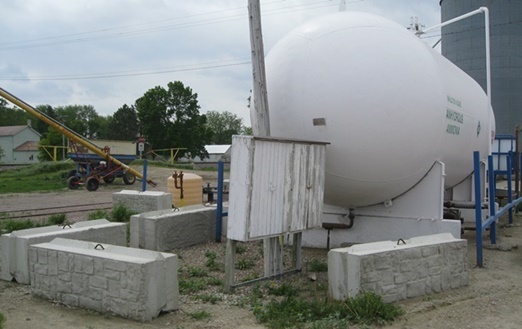 I made the light fixture using a Miniatronics "Lamp Shade With Bulb" (augmented with a frosty piece of Plastruct styrene tube). And as in the past, I made the "arm" by simply stiffening up the wires with CA and then bending them into the desired shape. And yes, it actually lights up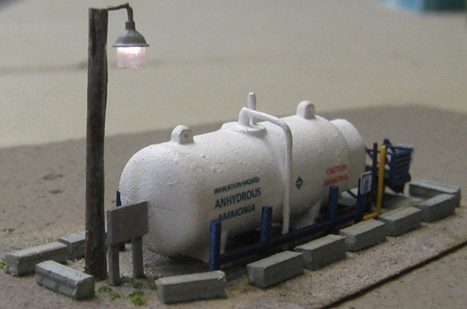 I really started driving myself nuts attempting to model all of the tiny crap on the east side of the tank (eventually reaching the absolute limit of my skills as far as wrangling tiny little parts goes).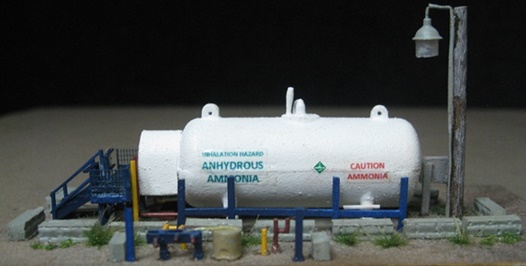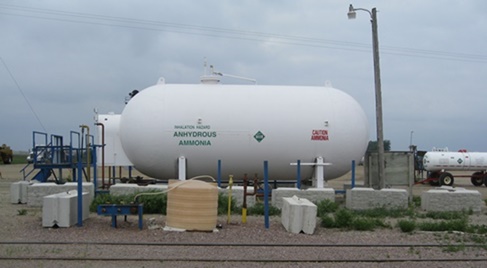 Somewhere along the line I came to the realization that I was trying to fabricate stuff that's not much bigger than a human hand and finally said "OK, enough is enough" and called it a day. I mean seriously, sometimes I get so wrapped up in what I'm doing that I just lose all perspective...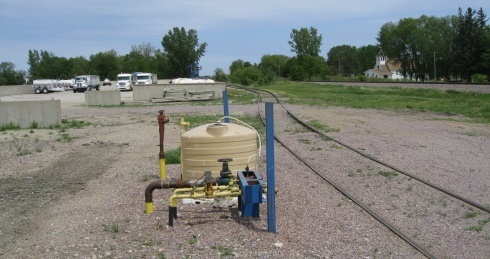 Since most of this stuff is just sitting on the ground, I decided to go ahead and glue everything down to a thin sheet of styrene and then make a little diorama out of the scene (complete with Highball dirt and assorted weeds). It's been years since I've been able to do much in the way of scenery, so it's nice to be able to mess around with it every once in a while.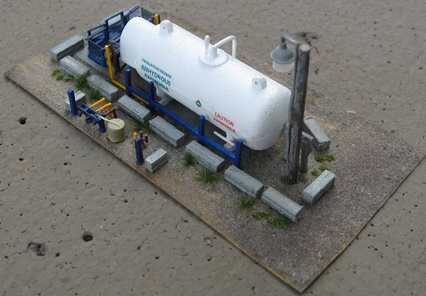 So, that's that. Now I just need to finish off the rest of the station (oh yay, more platforms) -