07/05/14 - Modeling the Chicago & North Western's "Dakota 400" passenger train
Being a big fan of the C&NW's iconic "400" trains, I was quite pleased to learn that one of them actually served one of the towns on my layout (Waseca). The C&NW inaugurated their "Minnesota 400" passenger train in 1936, providing service between Mankato, MN and Wyeville, WI (where passengers could then catch the main "Twin Cities 400" train to/from Chicago). And as a steam-pulled heavyweight passenger train, this would have been a pretty neat project. Unfortunately, N scale doesn't currently have anything even remotely like a C&NW Class D 4-4-2 Atlantic or a Class ES Streamlined 4-6-2 Pacific. So, without the requisite motive power, kind of a non-starter for me.
How come the HO guys get all the fun toys??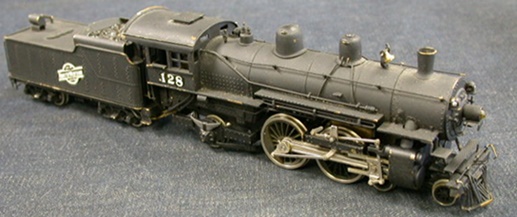 The streamlined version of the Minnesota 400 made its debut in 1942 (still pulled by streamlined Pacifics). In 1950, service was expanded to Huron, SD in the west and Chicago in the east. In concert with the expanded route the train was redubbed the "Dakota 400". The new train was pulled by a pair of EMD E7's (and later on that same year, by a single E8). The train originally consisted of a tavern-lunch-counter (#7502 or #7602) and four coaches for its entire run. A parlor car (#6500-6516) brought up the end of the train between Chicago and Mankato. West of Mankato, the parlor was replaced by a Pullman sleeping car (making the Dakota the only 400 train to offer sleeping accommodations). A 48-seat diner (#6955) provided expanded food service between Chicago & Elroy. Additional coaches and a second parlor rounded out the consist south of Elroy.
Service on the Dakota 400 was ultimately extended to Rapid City (in 1955). However, it wasn't long before ridership (and revenue) declined to the point that the entire route west of Mankato was dropped (in 1960). No longer travelling through South Dakota, the train received a new name - the "Rochester 400". This train generally consisted of a single E8, two coaches, an ACF diner-lounge and a parlor. A tap-cafe occasionally replaced the diner-lounge after 1961. Passenger service along this entire route was ultimately discontinued in 1963.
Consists on the Dakota 400 changed frequently over the years (with various cars and services being added and subtracted). For example, for most of 1950 the parlor car was extended all the way to Huron (instead of being left behind in Mankato). At the same time, the second (Chicago-Elroy) parlor was discontinued. In 1955, dining car service was extended all the way to Mankato (AC&F cars released from City-train service). Cafe-coach #7000 operated between Mankato and Huron.
Westbound across the Mississippi - August 23, 1958
(E8, RPO, Coach, Coach, ACF Diner-Lounge, Coach, Parlor)

The sleeping cars were originally 8-2-1 heavyweights. In 1958, the heavyweights were replaced by 6-6-4 streamlined sleepers. In 1960, the sleepers were changed to 16-1-3 cars. Coaches were (for the most part) standard 400-style cars, although three ex-C&O Pullman-Standard coaches were added to the Dakota 400 pool in 1957. The tavern-lunch-counter cars were eliminated in 1957 - replaced instead by heavyweight RPO's (and by streamlined RPO-express cars the following year).
And then of course you have all the different paint scheme variations to consider - the "full" C&NW green/yellow, the "simplifed" C&NW green/yellow, and the UP-esque "City" train scheme. Honestly, one could spend months trying to figure out what cars in what paint schemes would make up a "correct" consist for a given date/location. And then there's the problem of actually acquiring (and/or building and painting) models of said cars. I tell ya, model railroading ain't for sissies!
Anyhoo... here's what I came up with for my train -
My original plan for the motive power was to go with a pair of BLI E7's (released with DCC & Sound a few years back). Unfortunately, I only bought one of them when they first came out, and adding a second one now looks to be the impossible dream. Seriously, I've been monitoring eBay for close to a year now and not a single one has showed up there (new, used or otherwise). So, on to Plan B - get an old Life-Like C&NW E7 and mount the shell on a DCC-equipped Kato E8 power chassis (a perfect fit, surprisingly enough). Well, no such luck as those appear to be just as scarce as the BLI E7's. Jeesh, don't you C&NW modelers ever part with anything??
Anyway, what I did have was an old Life-Like C&NW E6 shell (mounted on a Kato mech). So, I figured I could use that as a temporary fill-in until such time as I tracked down another E7 (hey, who's to say it never happened?) Well, funny story - just as I'd finished speed-matching my E6 to my E7, I heard a loud POP come from the E7 - at which point actual smoke started pouring out of its exhaust stack. Unfortunately, this was not a "really cool yet undocumented" Paragon2 decoder feature. Rather, it was simply said Paragon2 going up in smoke. Which is bad enough in and of itself, but it also took the shell with it (melted the bejeezus out of it). So great, now I have exactly zero E7s for my train...
OK, so on to Plan D... a single Kato E8 (recently released in C&NW livery) -

I've also seen pictures of the Dakota 400 being pulled by a pair of Fairbanks-Morse Erie-Builts (I guess when all the EMD units were in the shop or something), so my Life-Like E-B dyanmic duo is another option (at least until such time as I track down some E7s) -
And if I'm feeling really crazy, I could even use my custom-painted Erie-Built "B" unit in lieu of one of the A's. However, since the C&NW never actually rostered any such units, that's going to have to remain our little secret -
As noted above, the head-end equipment varied depending on the year. Prior to 1957, the first car in the train would have been a tavern-lunch-counter (either #7502 or #7602). And although no RTR models of said cars are currently available, Des Plaines Hobbies does make a kit version of #7502 (DPN-1500). As you can see, mine is still a work in progress, so my train is going to have to reside in 1958 for the time being -
Starting in 1957, heavyweight RPO's replaced the TLC's in the consist -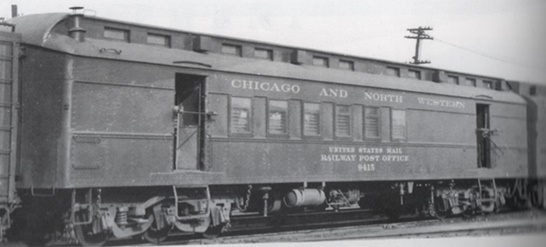 Unfortunately, there aren't any RTR options out there for these cars either. However, I guess if one's tolerance for foobies is high enough, a Micro-Trains RPO could be used as a stand-in. I'm also told that JnJ Trains did actually sell brass car sides for a C&NW RPO at one time or another. However, since that firm is long out of business, said sides are probably not a particularly viable option at this point. So, on to Plan B...
Starting in 1958, streamlined RPO-Express cars were often used in lieu of the heavyweights. And the good news here is that Kato's recently released C&NW smoothside RPO is a dead-on match for the C&NW's ACF-built RPO's #8225 and #8226 -

Kato didn't go so far as to number or name any of the cars in their C&NW sets, so I went ahead and added "8225" decals to mine. Now, as to whether or not #8225 ever actually saw service on the Dakota 400...? Well, that's probably a question that can't really be answered at this point in history. But whatever the case, I seriously doubt that anyone could actually prove that it wasn't. Another question is whether or not these cars ever sported the paint scheme offered up by Kato. Originally in UP colors, these cars were in fact repainted green and yellow. However, I've only seen pictures of them in the latter day "simplified" scheme (IE, yellow letters, black numbers, and no horizontal black lines). As for mine? I dunno, I guess I'm just going to adhere to the old "you can't prove a negative" axiom and leave it as is.
Of course, if you're annoyed by Kato's livery scheme (or their overly orange interpretation of "C&NW yellow"), you could always go with an Intermountain/Centralia RPO (#8200) instead -

As you can see, it's a very pretty and finely detailed model (and leave us not forget the interior lighting). The only downside is that the shell is a bit off as compared to the prototype (the windows aren't quite right and the end doors are a bit misplaced). But still, a decent option if one isn't prone to sweating the small stuff.
Now, I've never actually seen a picture of a Dakota 400 that included a baggage-express car. Still, I guess if one isn't afeared of a little science fiction, it probably wouldn't be stretching credulity too far to include an Intermountain/Centralia baggage car in one's consist. If nothing else, it's certainly a good match for C&NW #8900 -
Intermountain/CCS really knocked it out of the park vis'a'vis the coaches. They're gorgeous, they're available in multiple numbers, and they're absolutely correct and accurate for this train. Heck, they even did the ex-C&O cars -
The dining car is a piece of cake if you were lucky enough to pick up Kato smoothside set #106-5012 "way back when". If you did, you already have one of the ex-City ACF diners all done up in C&NW livery and ready to roll -
Of course, said Kato sets are impossible to find nowadays, so I was stuck with using the car from the more recent green/yellow C&NW set. And although the model included therein is correct vis'a'vis the prototypes (dining cars #6956-6959), the paint scheme is (once again) likely all wrong. There simply isn't any photographic evidence to support the supposition that these cars were ever repainted in anything but the later "simplified" green and yellow scheme.
So, I had several choices (none of which thrilled me all that much). I could strip and repaint the car in the correct paint scheme (ugh). Or, I could put correct number decals for the prototype (EG #6959) on a likely incorrect paint scheme and then dare the prototype police to prove me wrong. Or, I could put correct number decals (#6955) for the paint scheme on what would now be an incorrect car (#6955 looks nothing like these ex-City cars).
Well, at the end of the day I opted for "Plan B". IE, I put #6955 style decals on my car (to match the paint scheme), but went with #6959 (to match the model's prototype) -
In my quest for a parlor car, I noted that the prototype bears a striking resemblance to an IM "400" coach (just with six fewer windows in the main seating area and three extra windows in the drawing room area - one of which is round). So, I decided to try transmorgrifying an IM coach into a parlor. And although things started out promisingly enough (I used resin to fill in the unwanted windows - an experiment that worked out like gangbusters), I eventually ran into my usual problems cutting and filing the new windows (the first one wound up way too big during my futile attempts at making it symmetrical).
Fortunately, it was right around this time that I learned that Des Plaines Hobbies actually sells a C&NW parlor car kit (DPN 1503) -
On the downside, the model has two too many windows in the main seating area (22 instead of 20) - a problem I wish I'd noticed before I'd finished assembling and painting the thing (coulda just filled in the offending windows with resin). Oh well...
These DPH kits are made of styrene and consist of an American Limited "core" (roof, ends, floor, undercarriage details, skirting, diaphragms and trucks) along with custom DPH car sides. And as far as kits go, well... let's just say I've seen better. One problem is the lack of instruction vis'a'vis all the little doodads that are supposed to go underneath the car (water tanks, brake equipment, generators, battery boxes, etc). Basically all the "instructions" tell you is to go track down prototype pictures and/or diagrams and figure it out for yourself. Wow, really? Thanks a lot, DPH. Fortunately for me, my cars are all skirted so all that stuff is pretty much invisible anyway. And in light of that, I just used one of my IM coaches as a template and arranged the doodads underneath my car in a similar fashion. Lame, I admit. But I just didn't really feel like spendng a lot of time hunting down the requisite prototype information (especially since all of that detailing is basically invisible unless you're holding the car upside-down).
Undercar details aside, where I really had trouble with this kit was installing the floor. According to the instructions, you're supposed to assemble and paint the roof, ends and sides first. Then, after you've put the window glazing in place, you're supposed to finish things off by "snapping" the floor assembly in place. Yah, well, good luck with that. The only place it really "snaps" into place is on the ends. And despite the metal weight, the floor is very bendy - and thus damned near impossible to get seated properly. Basically the thing will bend in the middle and go in too far relative to the ends. And with the roof on, there really isn't any easy way to push it back down. I eventually wound up gluing some vertical supports to the center of the car so that the floor had something to push up against. And no, not a particularly elegant solution. That's why on my as yet unfinished TLC car, I decided to assemble the sides, ends and floor first and save the roof for last (after I've painted the carbody and installed the window glazing). And, well, I guess we'll see how that worked out when I actually finish it...
My supply of Floquil C&NW green and yellow paint finally died of old age, so I had to mix up my own paint for this car (with the goal being to match the IM cars). And amazingly enough, I think I came pretty close. Letter and number decals are from Microscale set #60-859 (now back in print). The black stripes are from Microscale set #60-51.
Technically speaking, one would've never seen a sleeping car on the Dakota 400 in Waseca. But I decided to go ahead and pick up an IM 6-6-4 anyway (American Buffalo). Y'know, for those "let's pretend" train sessions (and you can stop your sniggering at any time!)
For further information on C&NW passenger cars in general and 400 trains in particular, I recommend checking out "The 400 Story" (Jim Scribbins), "Chicago & North Western Passenger Train Equipment" (Patrick C. Dorin), "Chicago & North Western Passenger Trains of the 400 Fleet" (John Kelly). Also, the Nov/Dec 2007 issue of N Scale Railroading contains a very good article on modeling the Dakota 400 (written by the inestimable Bill Denton).
That's all for now. I'll be back with more horror stories when/if I ever finish my TLC kit car

07/22/14 - Finished the Dakota 400 head-end equipment

I guess it's kinda nice that somebody actually makes the exact sort of C&NW TLC car that I needed for my train. But wow, these DPH kit cars (and their woefully inadequate instructions) certainly are a mixed blessing. On the plus side, gluing together the floor, sides, ends and skirting first (and then the roof last) did actually work out quite well. But jeezo beezo, the trucks that come with these kits? Horrendous! I mean, did anyone at DPH ever actually try assembling one of these cars using the optional skirting? Because if they had, they would've discovered the same thing that I did - namely, that the trucks can't pivot!

Well, after much fruitless experimentation, I eventually just chucked the DPH trucks into my "useless crap from hell" box and stuck on some Micro-Trains trucks instead -

Funny story - after I'd finished the TLC car, I pulled out my "passenger car bits, pieces & parts" box in order to save the leftover parts from the DPH kit and noticed that I had an entire Micro-Trains heavyweight RPO in there (disassembled for god-knows-what never started project). So, I put it back together, stuck on some C&NW decals, et voila, instant foobie!
Of course, when one starts finding completely viable models tucked away and forgotten in storage, it does seem like a pretty good cue to go do some eBaying. So, pardon me for a few days (weeks?) while I divest myself of some of this useless workshop clutter. Hey, who knows? I might actually find my grain bin project buried in there someplace

Addendum from the distant future -

Atlas released a line of C&NW-based heavyweight passenger cars in 2018. And since said line included a heavyweight RPO, my MTL wonder foobie has been retired (sold, actually).
To be continued...
---
---