N Scale Layout #6 - A Season In Hope (2009-?)
-aka-
The No Imagination Required RR
---
Building #37 - The Shop In Hope (nee Mogenson Garage)
I'm not sure when this building was constructed (or what it might have been originally), but in 1951 Harry Mogenson established "Mogenson Garage and Dairy Supplies" here. Al Vierling purchased the business in 1980 and operated it as a Phillips 66 until 1998. Typical garage stuff with auto parts, general repairs, etc. At present it appears to be some sort of custom auto paint operation (dubbed "The Shop", according to the sign out front).
Circa 1981 -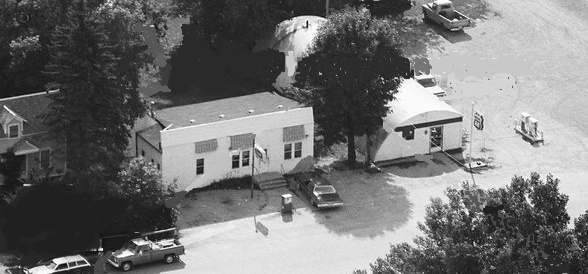 There's a short side-street running east from here (Hope's one and only) with a couple of houses on it. However, due to size constraints I won't be modeling any of that.
---


Send email to the spooks!
---