N Scale Layout #6 - A Season In Hope (2009-?)
-aka-
The No Imagination Required RR
---
Building #34 - Spurgeon House
This house was built in 1915 (concurrent with the bank) and was actually the home of the first banker (which probably explains its somewhat "upscale" look, at least as compared to some of the other early houses). Later on it was purchased by the Slezak family (of Slezak's General Store), who lived there for many decades.
I couldn't find any kits that even remotely approximated the look of this house, but being the only house "downtown", I couldn't really omit it either. So, I opted for an Atlas "Barb's Bungalow" as a stand-in. The garage is also from Atlas ("Kate's Colonial Garage") -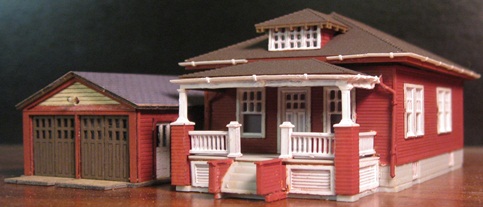 ---


Send email to the spooks!
---