N Scale Layout #6 - A Season In Hope (2009-?)
-aka-
The No Imagination Required RR
---
Building #33 - First National Bank
The now "First National Bank of Waseca - Hope Branch" was originally established as a "Farmers State Bank" in 1915. The adjacent house was built concurrently with the bank (a fat-cat perk for the original bank president).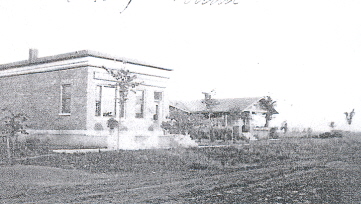 I suppose it was when somebody actually deigned to build next door that said bank president exclaimed "there goes the neighborhood" and moved to the other end of town. Yeah, sorry, I don't like bankers. But then again, as I write this we're in the midst of the great financial meltdown of 2009, so at this point I don't suppose anybody else out there likes bankers all that much either.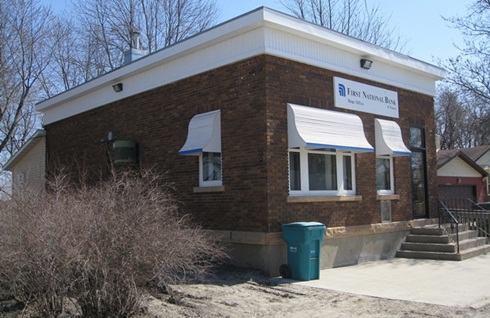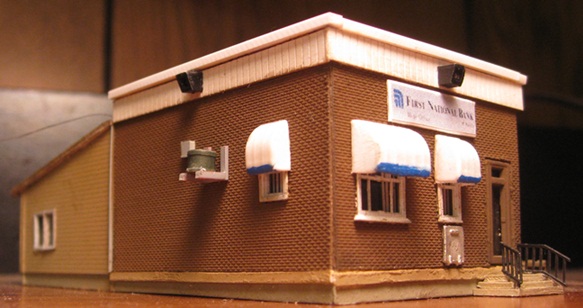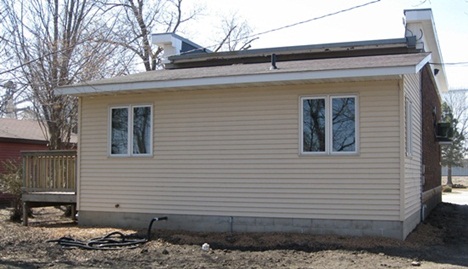 OK, so now I have to transcribe this "news" article from the Ellendale Community News. Um... because? Well, just 'cuz I have to... You'll see.
March 12, 1992 - Hope Men Collide
"As Farmers State Bank of Hope employee, Dale Wilker, age 47, was going to a meeting in Mankato, and as Hope resident Mark Cassen, age 24, was going to school at Mankato State last Thursday morning, they collided on Highway 14 west of Eagle Lake. Dale Wilker of rural Owatonna slowed the 1982 Chevrolet he was driving as an opossum crossed the highway and as it appeared a youngster was also going to cross. His car was struck in the rear by a 1985 Pontiac driven by Mark Cassen of Hope.
"Cassen's leg became trapped in the plastic moldings around the steering column, so rescuers had to cut the roof off the car to gain access to the moldings to free his leg. Cassen was taken to Immanuel-St.Joseph's Hospital in Mankato where he was released after receiving thirty facial stitches. His leg was not injured. Wilker was knocked unconscious, but he was able to go on to his meeting in Mankato with a Highway Patrolman. His car was destroyed, as was Cassen's in the accident.
"The opossum was injured and had to be destroyed".
---


Send email to the spooks!
---