N Scale Layout #6 - A Season In Hope (2009-?)
-aka-
The No Imagination Required RR
---
Building #28 - First Lutheran Church of Hope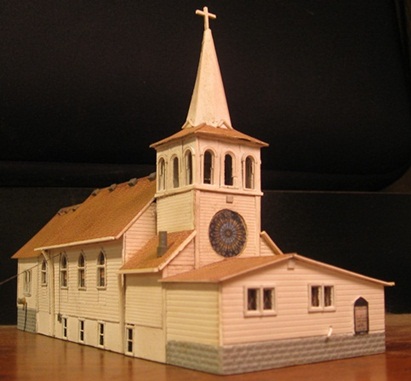 Among the early settlers to the area were a group of Danes who organized a congregation and built the erstwhile Danish Lutheran Church about two miles southwest of what would eventually become Hope (on land opposite the farm now occupied by Irvin Jensen). As the years passed, many of the original church members retired from active farming and their farms were rented or sold. Unfortunately for the church, nearly all of the new people moving into the area were of other nationalities; and since the language used in the Church was Danish, said newcomers were unable make use of its facilities and services. Consequently, church membership gradually decreased to the point where those who were still active were too few to keep the work going.
In the summer of 1919 S.J. Hansen, the Danish Lutheran pastor from Owatonna, canvassed the community to learn whether or not church work in the area could be resumed. He found the prospects rather favorable, and at a business meeting held at the Danish Lutheran Church on October 8, 1919, The First English Lutheran Church of Lemond was formed (nearby Lemond apparantly being the designated home for the nascent church's organization).
Initially, services were held at the old Danish Lutheran Church. However, as its work prospered and the congregation grew in number, it became necessary to find a new meeting place. So, in December of 1919, a special business meeting was held at the home of John Nelson, and it was at this meeting that a decision was made to build a new church in Hope. A building committee consisting of L.E. Schuster, D.A. Kruckenberg and E.G. Grunwald was elected. Funds were solicited and nearly $1400 was pledged by members and friends. H.P. Rasmussen loaned the rest of the money ($3100) to finance the building. The old Danish Lutheran building was sold to Clarence Hagen (who moved it to New Richland and converted it into a home). During construction, services were held in a hall over Joseph Slezak's store. The first services were held in the new church on Christmas Day, 1921.
In 1940, the basement was remodeled and an oil furnace was installed. An addition to the front of the church was built in 1948 (providing easier access to the basement and a place for people to gather before and after worship). In 1950, the congregation entered into an agreement with Albert Boettcher to install plumbing in the church. This put an end to the tedious job of carrying water to each meeting when food was served. It also made it possible to install two washrooms in the basement. An addition to the back of the church was built in 1994, which (among other things) fixed the problem of rain flooding the kitchen (yikes).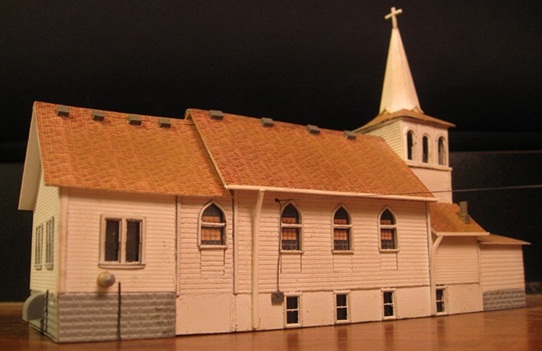 ---


Send email to the spooks!
---