N Scale Layout #6 - A Season In Hope (2009-?)
-aka-
The No Imagination Required RR
---
Building #21 - Fisher Dude House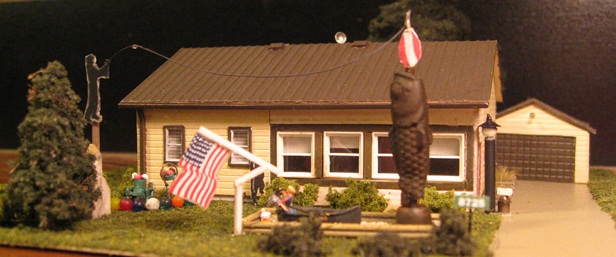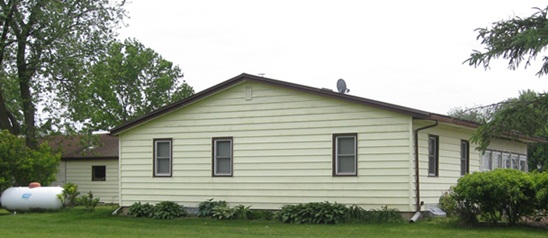 This house was moved to Hope in the 50's by the bank (who owned the property). It supplanted yet another quonset house - which kind of amazes me. Were quonset houses really that common back in the day? Or did Hope just happen to have an unusual concentration of them? If you're a quonset house expert, drop me an email and we'll discuss

And wow, how 'bout that fish? Back in 1997, Jim and Millie Stockwell had a dead white ash in their front yard. And rather than have it cut down and hauled away (booo-ring), they hired local chainsaw artist Dale Brooks to carve it into a 12' northern pike. Suffice it to say, it became a popular stop for picture-takers. And Jim was more than happy to come on out and discuss his pride and joy. Unfortunately, he has since passed away. But no worries, I'm sure that even now he's hauling in similarly sized lunkers up there in the great hereafter.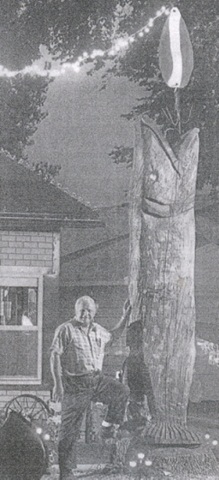 Jim Stockwell, 1935-2004
2012 Addendum - It looks my model is now a memorium to the fish. It's gone!
2013 Addendum - I found some more information re Jim's fish -
"When Jim and Millie Stockwell's grand old front yard white ash died in 1997, they had the Knutson Brothers leave the main trunk, 12 feet tall and straight up. Neighbors asked why they left such a tall stump, and they said, "Well, just wait a while. It'll change."
"They had hired chain-saw sculptor Dale Brooks to carve it into a huge northern pike dancing on its tail, a big Daredevil lure hooked into its lower lip; the line leads to a fisherman standing on the roof of their house. Fishing nearby is a man in a flat-stern canoe with a 1938 Johnson Sea Horse motor; the submerged part of the motor is not really buried, Jim says, but just cut off, so if anyone takes that motor they won't be getting much. Ducks float in the cattails around the canoe, and the angler has caught a basketful of ordinary-sized fish. The monster erupts 10 feet from his boat. At night the line from the Daredevil to the house is lit up, as well as the big northern's eyes and the bucket of fish. The eyes are convincing round mirrors with the backing scraped off the centers."
So, there you have it. Apparently fisherman guy used to be on the roof -
---


Send email to the spooks!
---