N Scale Layout #6 - A Season In Hope (2009-?)
-aka-
The No Imagination Required RR
---
Building #14 - The Shop In Hope (nee Stafford's Toy Box / Slezak's Shed / Hope Depot)
This lot originally held Hope Depot and Joe Slezak's garage and storage building - pretty much the first buildings in Hope.
The rail line through Hope was originally laid by the Burlington, Cedar Rapids & Northern Railroad in 1898. The Chicago, Rock Island & Pacific took over ownership of the line in 1903. In 1906, a depot was petitioned by local farmers (and granted). And no frills, baby. It originally consisted of nothing more than a couple of converted box cars -
A more traditional depot was built some years later (not sure when - maybe the twenties?)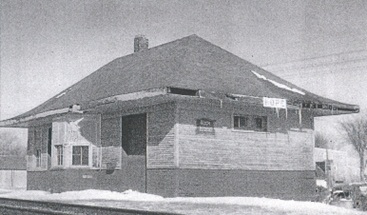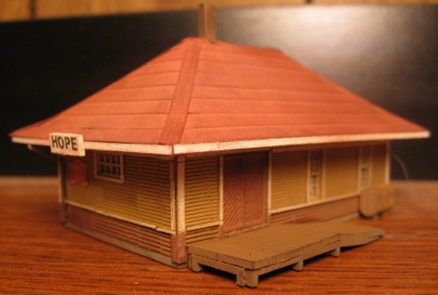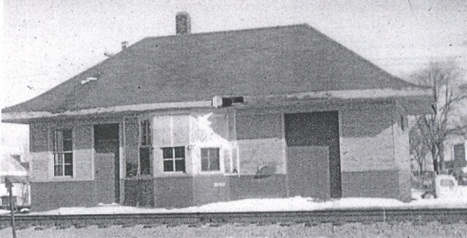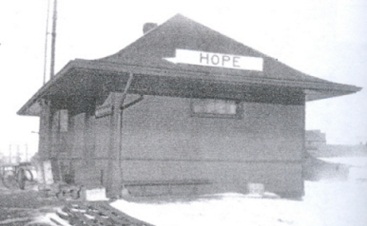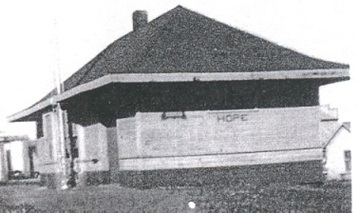 I don't have a whole lot of information about early (steam era) passenger train operations. However, what I do know is that by 1932 there were six Rock Island passenger trains passing through Hope each day (three northbound and three southbound). The routes were designated The Mid-Continent Special, The Chicago-Twin Cities Express, and the Short Line Express. A fourth route was added in the mid-30's, increasing the total number of passenger trains passing through Hope to eight. Information on this pre-streamliner era is a bit sketchy, but I gather that these trains consisted of heavyweight passenger cars pulled by 4-6-2's and 4-8-2's.
Beginning in 1937, Rock Island entered the streamliner era and began replacing their steam locomotives with diesels (TA, E3, E6, E7, E8, et al) and their heavyweight cars with lightweight streamlined cars. Two of the four Rock Island trains into and out of Minnesota were so-called "Rocket" trains (the Mpls-Kansas City Rocket and the Zephyr Rocket). In 1945 the Mpls-KC rocket was redubbed the "Twin Star Rocket". Passenger operations remained fairly static through the 40s and 50s, but by 1960 the situation had started to deteriorate rapidly. Two of the trains serving Minnesota (Short Line Express and Mid-Continent Special) were combined into a single "Kansas City Rocket" train. The Twin Star Rocket was discontinued in 1966 and replaced by "The Plainsman" (service between Minneapolis and Kansas City). By 1969, only one Rock Island passenger train served Minnesota (an unnamed train running between Mpls and KC). And by 1970, Rock Island passenger service in Minnesota was discontinued entirely.
Direct passenger service to Hope itself ended in the late 50's. And although I'm not exactly sure when the depot itself went away, since it was already gone by the time the 1972 picture (below) was taken, I'm assuming it must've been demolished fairly soon after Rock Island discontinued passenger service in Minnesota -
As mentioned above, Slezak's "shed" also used to be on this lot. As an adjunct to the neighboring General Store & Post Office, this building was originally built as a feed store (actually predating the general store). Over the years it served many different purposes, eventually settling in as a simple storage building.
Back in the 40's, Slezak's General Store sold "Minnesota Line" farm machinery. Said farm implements were manufactured by inmates at Stillwater State Prison and assembled in the shed by Joe's son Allan - a trade he evidently learned while actually serving time in said prison!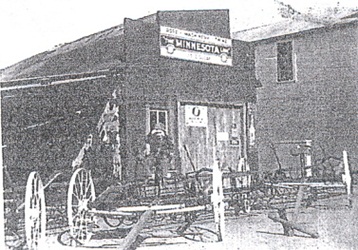 This lot was purchased circa 1998 by one Stafford Breck, who then built the modern storage facility pictured at the top of the page (I'm told he used it to store his various cars and other assorted "toys"). From what I gather, the remnants of Slezak's garage were torn down not along after the new building went up. According to an obituary published in the Mankato Free Press, Mr. Breck passed away in 2011 -
"Stafford Breck, 80, of Ellendale was born Aug. 19, 1930, in Waseca, MN, to Ella (Johnson) and Andrew Breck. Each day he lived life to the fullest until his passing on March 7, 2011, in San Juan, PR. On Oct. 21, 1956, he was united in marriage to Ila Priem in Mankato, MN. Services will be on March 26, 2011, at 11 AM at Trinity Lutheran Church, 609 Lincoln Ave. South, Owatonna, MN. Reception following the service at the Owatonna Country Club, 1991 Lemond Road, Owatonna. In lieu of flowers, memorials preferred to the Ellendale Food Shelf, St. Isidore School or Trinity Lutheran Church Building Fund."
Circa 2017, the building was sold to new owners who repurposed it as some sort of auto repair shop (the aptly named "The Shop in Hope"). As for my layout, I'm more enamored with the old Slezak building and have no plans to model the more modern structure that took its place.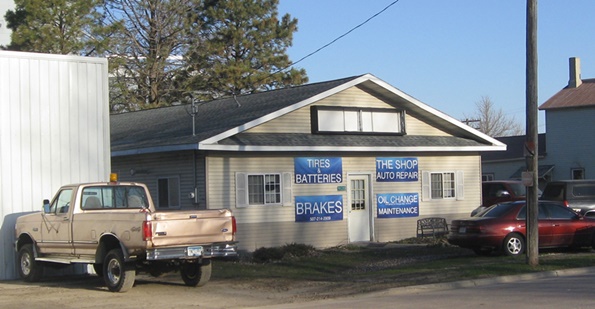 ---


Send email to the spooks!
---