N Scale Layout #6 - A Season In Hope (2009-?)
-aka-
The No Imagination Required RR
---
Building #1 - Krause Feeds & Supplies


This operation dates back to 1928. It started out its life as a stockyard (then known as the "Hope Cooperative Marketing Association", or simply "Hope Co-Op"). One of the original owners was a gentleman by the name of Ed Oldefendt (son of Prussian immigrant farmers whose family settled in the area in the 1890s). In the mid-40s, Ed bought out the other owners and changed the name to Oldefendt Livestock Co. The stockyard operation expanded throughout the 1950s (with feed and farm machinary also being added to the business along the way).
Oldefendt Livestock in 1951
In 1967, Ed retired and sold the business to long-time employee Richard Krause (who eventually changed the name to "Krause Livestock & Feed"). Soon after the purchase, a new truck shed was built and the feed warehouse was expanded. In 1992, the livestock buying operation was expanded yet again. Some of the original structures were torn down, and a large (78' x 80') addition was built. Producers would truck in their hogs, sheep and cattle (or hire Krause's truck to pick them up). Producers were paid right on the spot, and Krause would then re-sell the livestock to various regional meat processors (John Morrell in Sioux Falls, or one of the many slaughterhouses in South St. Paul). Livestock was transported by the purchasers (in semi triple-decks) or by Krause's own truck. In addition to the feed and livestock operations, general supplies were also available (as well as 24-hour gas pumps).
Krause Livestock & Feed circa the 1970's
Circa 2000, the truck was sold and the feed and animal health products side of the business became the new focus. In order to get the best prices, said feeds had to be purchased in huge quantities. This required gradually adding additional storage space, which sort of explains the hodgepodge of variously sized and shaped structures that now make up the complex. Jim Krause (son of Richard) now owns and runs the business.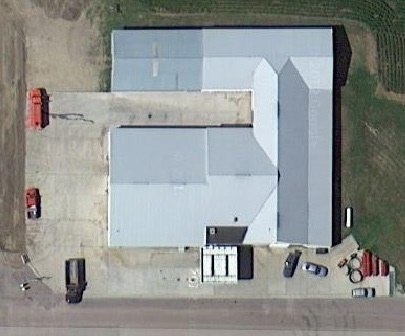 At this point it looks like I'm going to have to pretty much scratchbuild this whole thing. Yes, Plastruct does have a number of generic "pole barn" type buildings that might be adapted for Krause. Unfortunately, all of the siding on said buildings is vertical rather than horizontal (d'oh). So, that's a dead end. And I'll tell ya, I'm guessing that fabricating all those odd angles where the differently aged sections of the complex intersect is going to be just a whole lot of not much fun.
---


Send email to the spooks!
---