Replacement Gears For N Scale Brass Locomotives

---
Pictured below is a replacement gear chart for N scale brass diesels. This resource was created by Gene Maddox (during his years working at Bobbye Hallís in Dallas) and is provided here courtesy of John Sing (with Gene's blessing). This should be an invaluable aid to any N scale brass diesel owner in need of replacement gears (due to the infamous "cracked nylon gear" problem). Gene spent countless hours disassembling every model listed below - counting, measuring, and documenting the exact combinations of teeth, diameter, proper replacement size, etc.
As the chart documents, getting the right replacement gears for N scale brass diesels is far from straightforward. The combinations are much more varied than anyone might have suspected and are by no means standard from one model to the next. Because of this unique need, Gene purchased Bobbye Hallís complete stock of Samhonga replacement gears when she closed her shop. He still repairs brass locos, and still has his complete stock of replacement gears available for purchase. These are all brass (as opposed to nylon) Samhongsa factory replacement gears, in the exact combination of teeth and gear diameter required. Where appropriate, Geneís replacement gear is the complete compound gear set (since most of us donít have the tools to do press-fitting on tiny brass gears).
Gene is happy to accept inquiries via email and can be contacted at dmaddox@tx.rr.com. He accepts PayPal and ships via USPS.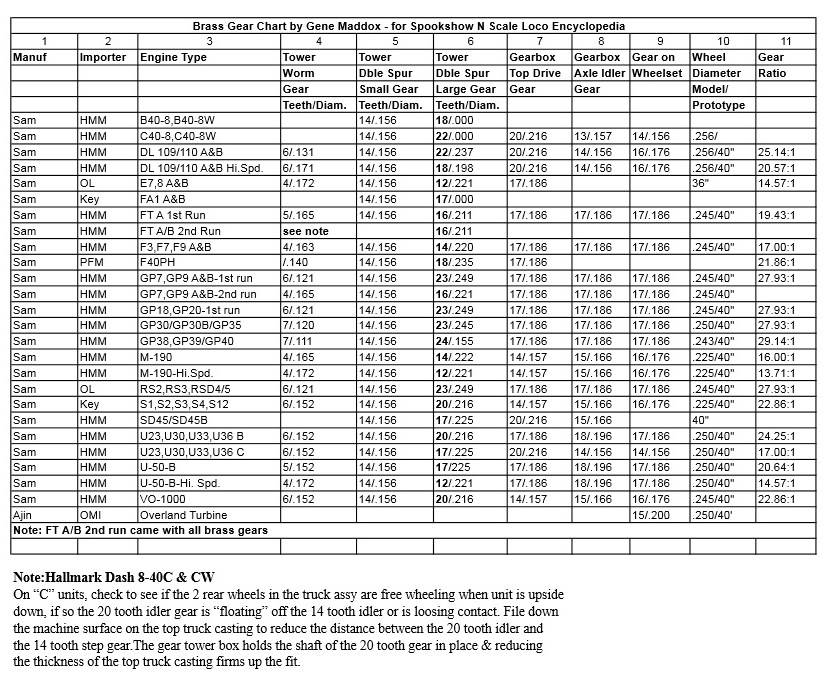 ---


Send email to the spooks!
---